Located 14 kms from Manali in Himachal Pradesh, SolangValley lies on the western bank of the River Beas. A place worth visiting all round the year, that's exactly what makes this place the perfect holiday destination. However, the best time to visit Solang Valley depends on why you wish to go uphill. If you're looking to indulge in activities like paragliding, gondola, and more, the lush green summers are the ideal time and if you ask me where to Stay than you must check Astrocamping in Solang Valley and thank me later!\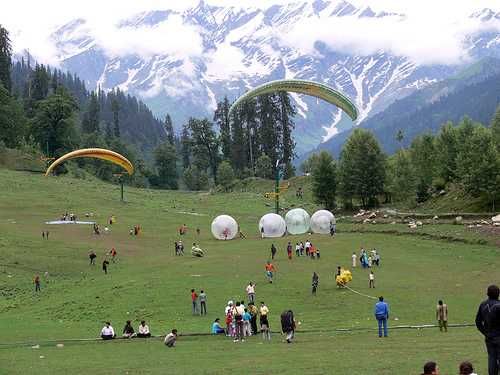 The start of international skiing competitions like the Alpine Premier League has made the valley very popular among foreign tourists.
But, if you're a winter lover and feel like tasting the thrill of skiing and skating, the snowy weather between November to February makes for the perfect time to plan your trip.It has a number of hotels and other accommodation options available nearby , Scicomm can help you out to make the booking hustle easy – they also provide choice to experience amazing night sky, stars, planets!
Valley, locally known as Solang Nullah, derives its name from a combination of the words Solang (nearby village) and Nullah (water stream).
It offers great views of the surrounding glaciers as well as of the splendid valley lying between Solang and Beas Kund. The valley is also home to a shrine dedicated to Lord Shiva, located on top of a hill.
Hidimba Temple and Raha Waterfalls are other attractions nearby that one can visit.