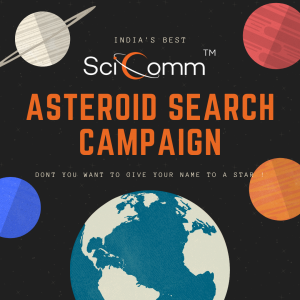 A special Asteroid Search Campaign during your lockdown with the pandemic #covid19 as part of Global Astronomy outreach program of Astrocamp India.
This search campaign is open to schools and teams around the world. Stuck at home? Participation is online and completely free for the participating teams!
Deadline: 14th April 2020, 12:00 Hour
Organizer:
DST Rajasthan in collaboration & International Astronomical Search Collaboration (IASC)
Time: 14th April, 2020 to 12th May, 2020.
NOTE:
– All participants are advised to kindly read fundamentals about Asteroids/ Comets/ Meteors/ Meteorites/ Stars etc etc in order to enjoy efficient learning during this campaign.
– Make sure you avail/ have laptop in order to analyse astronomical data during campaign.
Eligibility : Students from 10th class onwards (in a team of 4 students at max)
(ONE teacher/faculty in a team can also participate)
Selection criteria will be based on mainly two parameters: Prior exposure to field of Astronomy & your motive to participate in this campaign.
A separate mail will be sent to shortlisted teams on 14th April, 2020
Apply:
Please follow below social media link for regular updates:
Regards
Team SciComm
www.scicomm.in